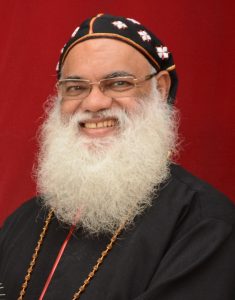 His Grace Geevarghese Mar Coorilos
Our school President His Grace Geevarghese Mar Coorilos Metropolitan has been serving the Holy Church with piety, simplicity and enormous earnestness. Blessed with a towering and graceful persona, Arch Bishop Coorilos humbly carry forward the mission and vision of our forefathers. His Grace is a devout advocate of orthodox faith. He has been serving the Holy Church for three decades in diverse capacities. Decision making is indeed a challenge, at positions that demand the highest level of perfection and he executed them remarkably.
It was in the year 2006 His Grace purchased a large plot of land for the MOCCB in Pune at Dhanori under the Pune Municipal Corporation limits very close to the airport.
His Grace did not miss the time to plan an educational complex, the first to start with an ICSE school to promote education. His Grace promotes the leadership of Guru-Shishya Parampara, that traces its roots back to the vedic ages. His Grace has been instrumental in establishing a number of educational institutions in Mumbai, Pune and Gujarat. For effective management and administration of educational institutions, he constituted the Education Board that introduces the latest curriculum.